You've collected some fantastic product reviews, and now you're thinking, "Why not showcase these reviews on Google Shopping?" It's a great idea to boost your products' credibility and attract more customers.Here's a guide on how to create a product review feed for Google Shopping. Let's get started!
Step 1: Check Google Shopping Requirements
First things first, check if you are eligible to display reviews for your products in Google Shopping. As Google's help center says, you need to have at least 50 reviews to get access to the product ratings feature.
If you have 50 or more product reviews in your WooCommerce store, then you are good to go with next steps.
If you don't have that many reviews yet, we recommend you to install our free CusRev plugin for collection of verified customer reviews. If properly configured, it will help you to get 50 and more product reviews in no time.
Step 2: Sign Up for Product Ratings
At this step, we assume that you have already collected 50 or more reviews. Go to the Product Ratings interest form. If you don't see the Product ratings interest form or the link isn't working for you, please tell us in the comments section below.
The first question of the application form is if you are working with an approved third-party reviews aggregator. Since you have your own WooCommerce website and can use it for hosting the feed with reviews, you don't need to pay any third-party reviews aggregator to host the feed for you. So, you can answer "No" to this question.
Next, you should tell Google what kind of products you are selling and confirm that you have at least 50 product reviews.
Finally, you need to provide basic information about yourself including details of your Google Merchant Center account and submit the form. After you submit the form, you need to wait a few days for an email from Google with information about your approval.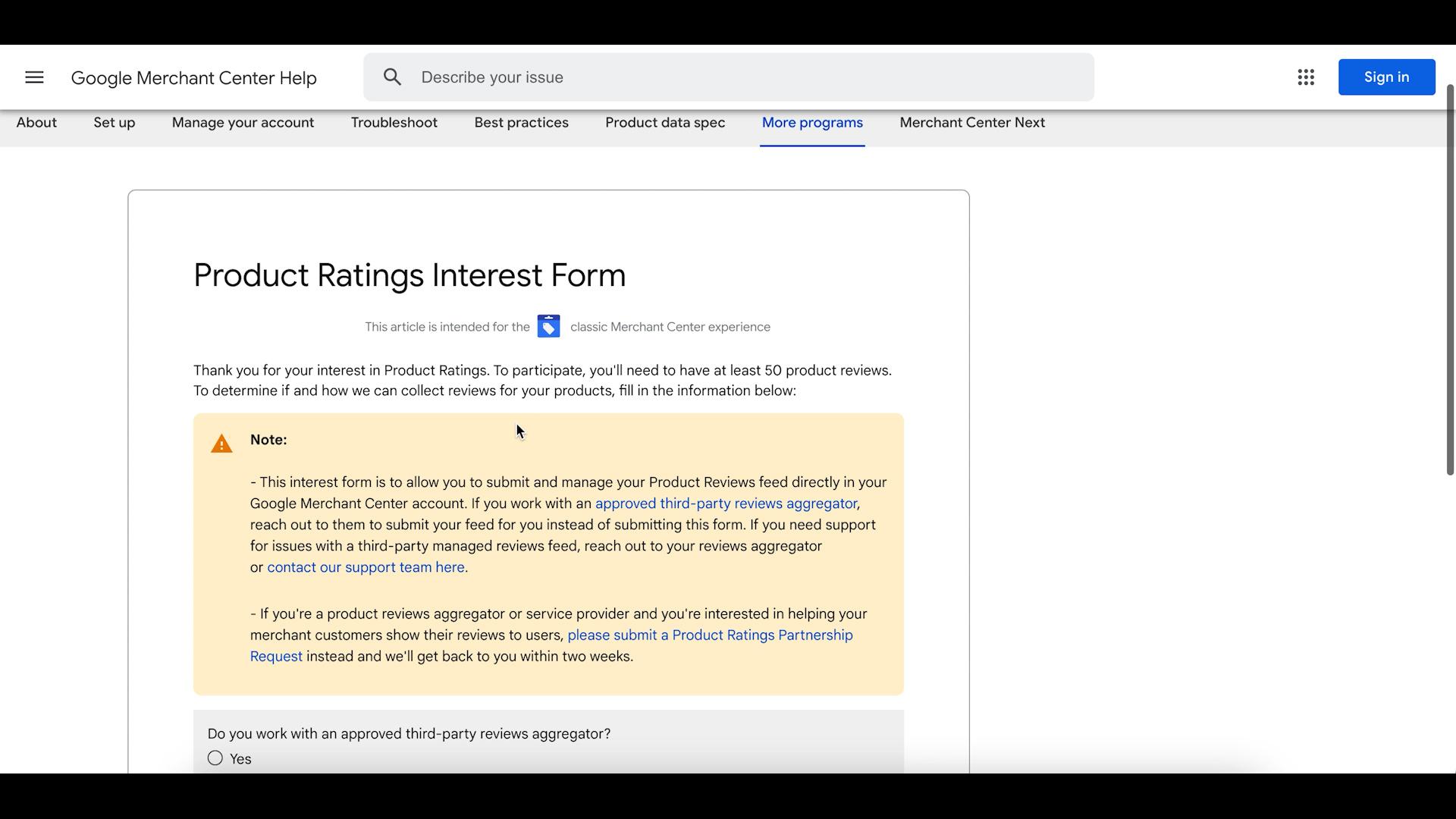 Step 3: Prepare for Creation of a Product Reviews Feed
After Google approves your application, check your Google Merchant account. You should see a new item called "Product Reviews" just under the "Marketing" node there. If you click on the "Product Reviews" section, there will be a link for managing Product Reviews Feed. Here, you can add the URL of the Product Reviews feed hosted on your own website.
Well done so far, but what URL do you need to put in the URL field of the Product Reviews settings in Google Shopping? That should be the URL of an XML file with product reviews hosted on your website. How to create this file in WooCommerce? There are several plugins that can do it. For the purposes of this tutorial, we will use our own free plugin for customer reviews that also has an option to create review feeds for Google Shopping.
Step 4: Create the Product Reviews Feed
Now, let's check settings for generation of Product Reviews Feeds and also create one. To do this, go to "Reviews", and then "Google" in the WordPress menu, and customize the feed settings.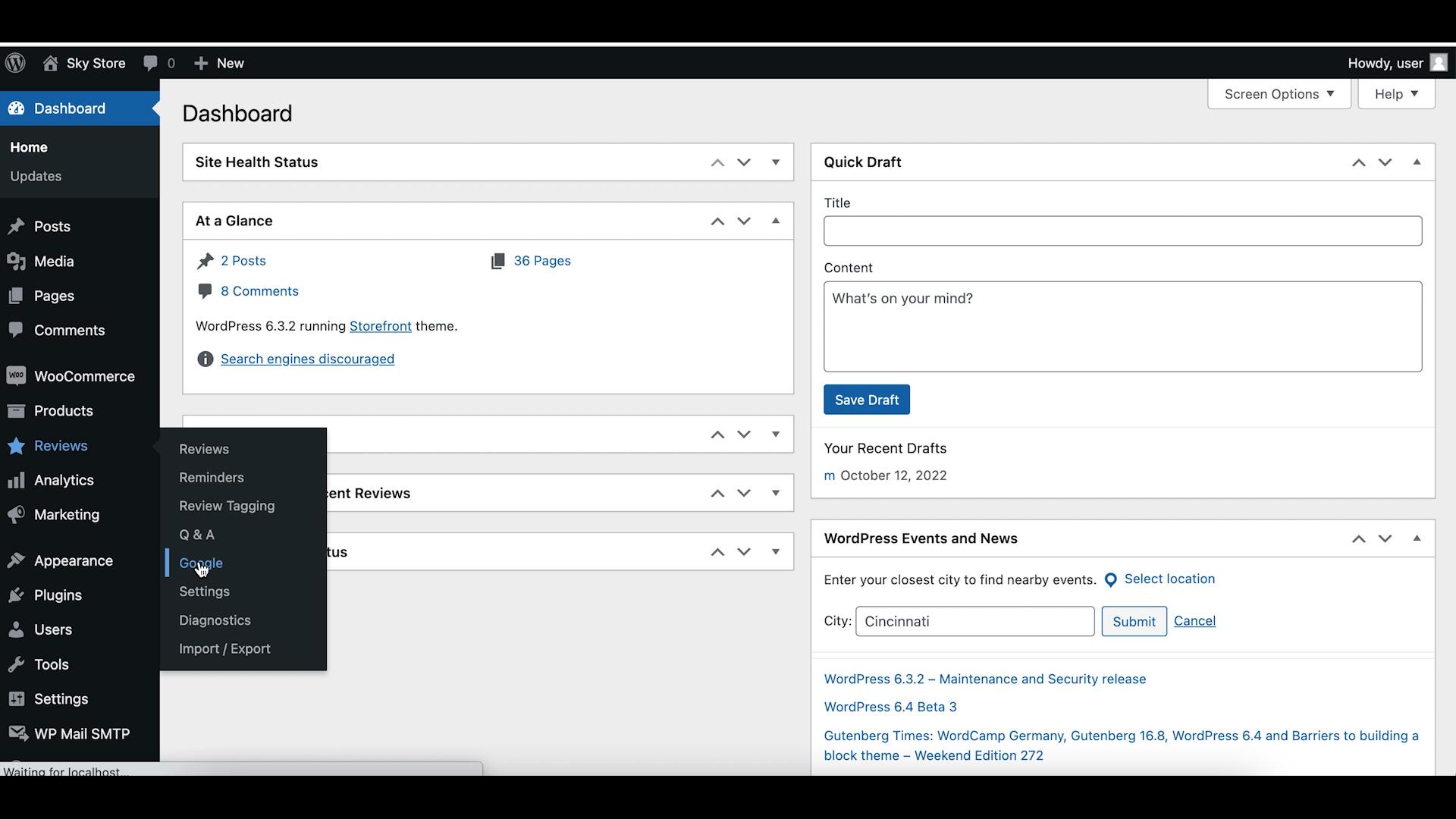 Let's start with the product identifiers tab. It has settings for product identifiers like GTIN or MPN. Depending on your country and type of products that you sell, it might be mandatory to include the product identifiers to the product feed. Otherwise, Google might reject the feed. Here, you need to enable the identifiers in WooCommerce and map them to Google Shopping identifiers. Don't forget to maintain actual values for the product identifiers in the relevant fields of WooCommerce products.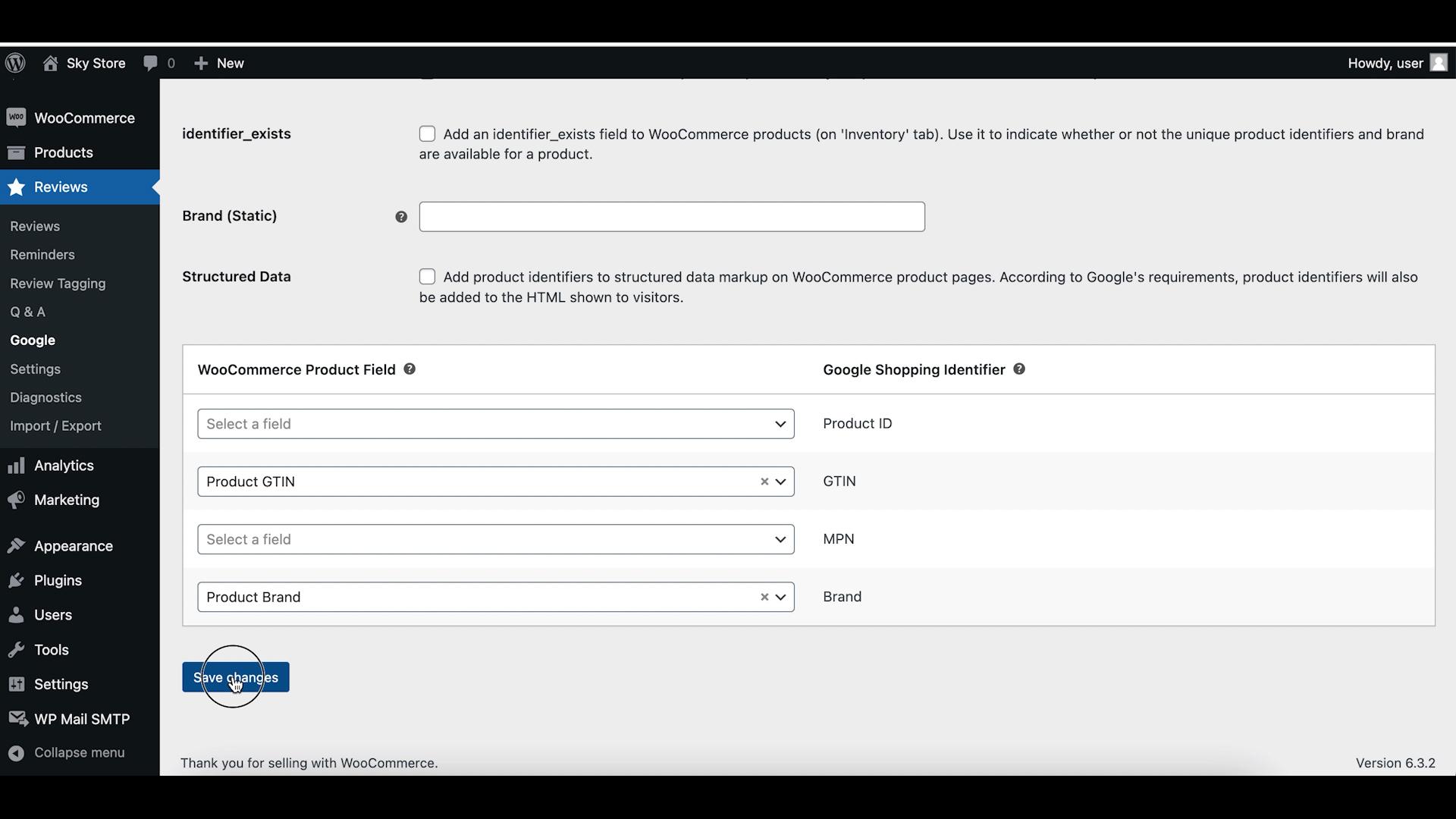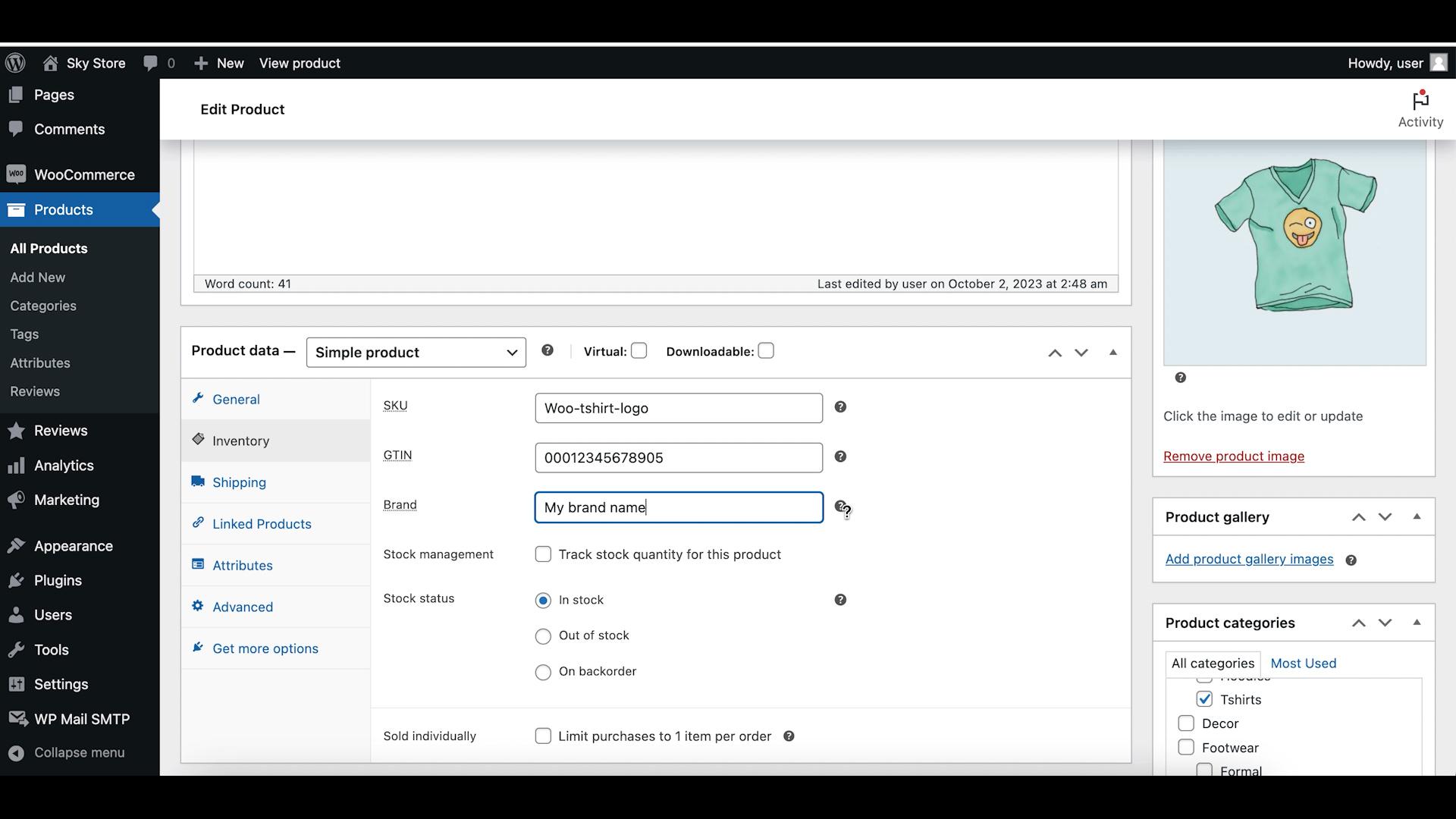 The next tab with settings is called "Reviews". Here, you need to map fields from WooCommerce products to one of the product identifiers in the XML feed. It is important to map the same fields that you set up as product identifiers on the previous tab. You can also customize how product identifiers for variable products will be included in the feed and set a criteria for a minimum length of reviews to be considered for the feed. Make sure to click on the save button after you have finished adjusting the settings.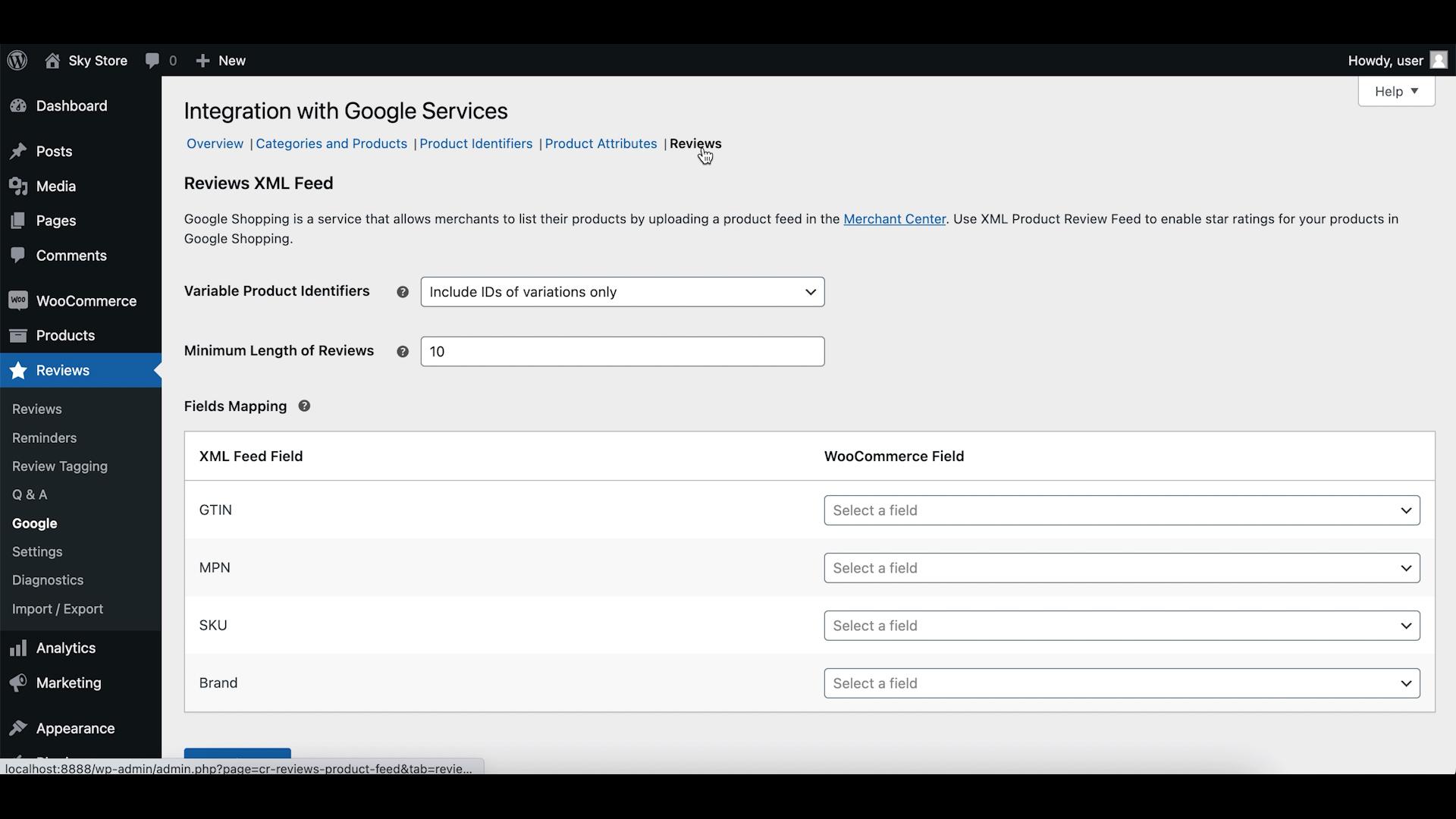 Finally, let's return to the overview tab and tick the checkbox for creation of the product reviews feed. The plugin will create the feed after you save the settings, and then refresh it on regular intervals. By default, it is once per day but you can make it less frequent if you don't receive new reviews in your store too often.
As soon as the feed is created, you can check how it looks by copying its URL and opening it in another tab of your browser. You should copy and paste the same URL to the "Product Reviews" section of your Google Merchant Center account. After that, Google Shopping will fetch reviews from your feed.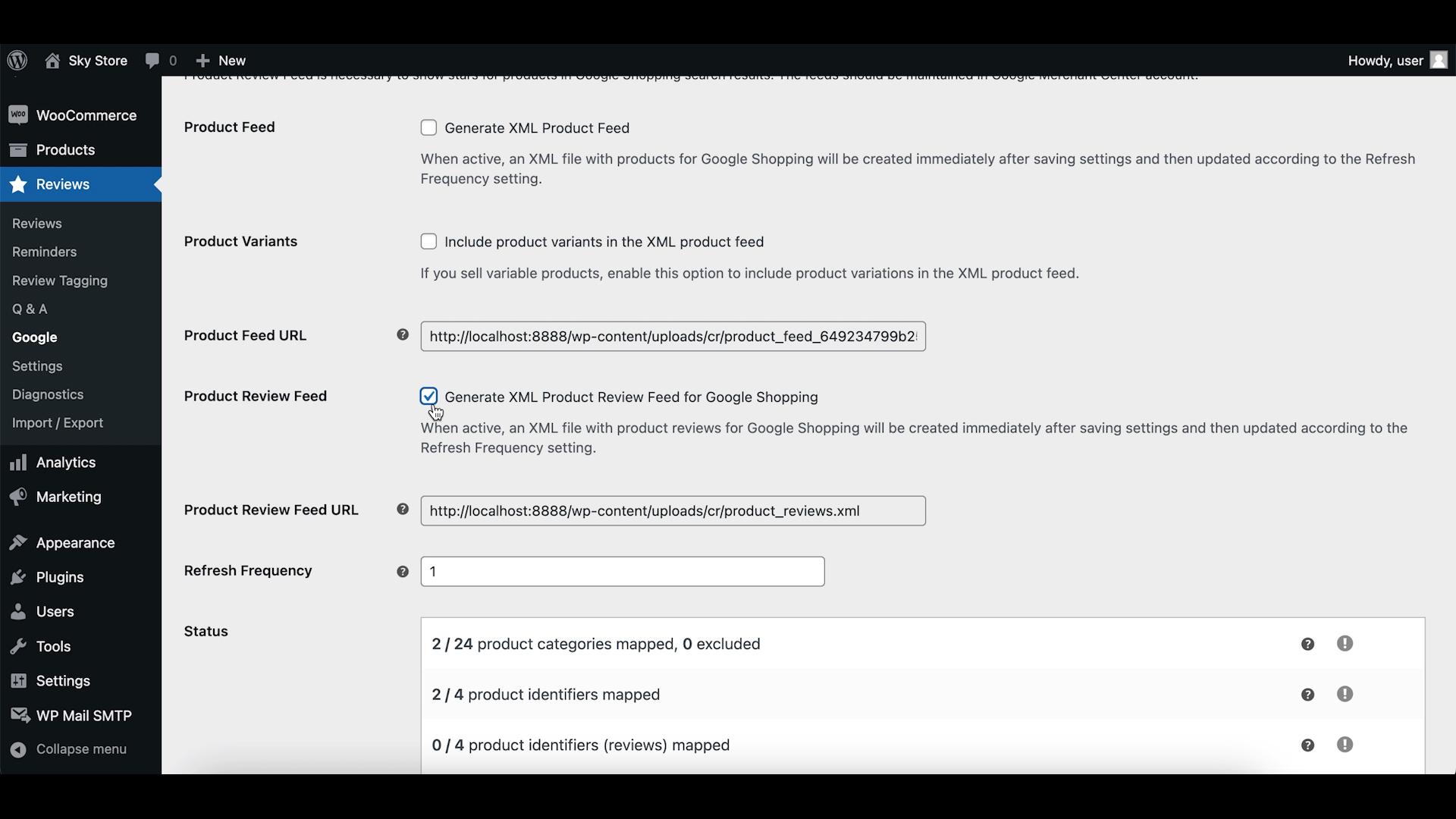 Is a Product Feed Also Required?
We've just shown how to create and submit a feed with Product Reviews to Google Shopping. But do you also need to create and submit a Products feed in addition to the Reviews feed? The answer is yes. You need to submit both feeds. Google will use the Products feed to get information about your products, and it will use the Reviews feed to get reviews for your products. If you have any doubts about creating the Products feed, read our post that explains that.
Related post: https://blog.cusrev.com/how-to-create-a-product-feed-for-google-shopping/
Video:
Wrapping up
Creating a product review feed for Google Shopping is a valuable way to enhance your product listings and attract more customers. While it involves several steps and adherence to Google's guidelines, the credibility and trust gained from showcasing reviews can make it well worth the effort. Remember to keep your review feed up to date to provide potential customers with the most current and relevant information. Good luck!
CusRev Plugin: https://wordpress.org/plugins/customer-reviews-woocommerce/