Customer reviews are invaluable for building trust and credibility in your WooCommerce store. By utilizing shortcodes in combination with the CusRev plugin, you can seamlessly display customer feedback, enhancing the shopping experience for potential buyers. In this guide, we'll walk you through the process of displaying WooCommerce reviews using shortcodes, empowering you to showcase authentic customer opinions effectively.
Let's get started!
Why Use CusRev Plugin for Review Shortcodes?
WooCommerce itself doesn't provide any shortcodes for display of customer reviews. Therefore, you will need to install some 3rd-party plugin for this purpose. In this guide, we will use CusRev plugin because:
It has a fully functional Free version.
It provides shortcodes for 3 different layouts to display reviews such as list, slider, and grid.
It works with the standard WooCommerce reviews format, and hence has a broad compatibility with other WooCommerce plugins.
Step 1: Install and Configure the CusRev Plugin
Before using shortcodes to display reviews, ensure you have the CusRev plugin installed and set up on your WooCommerce store.
Log in to your WordPress admin dashboard.
Navigate to "Plugins" and click "Add New."
Search for "CusRev," install the plugin, and activate it.
Shortcodes are disabled by default, so you will need to configure the plugin settings to enable the "Reviews Shortcodes" checkbox on the "Shortcodes" tab first.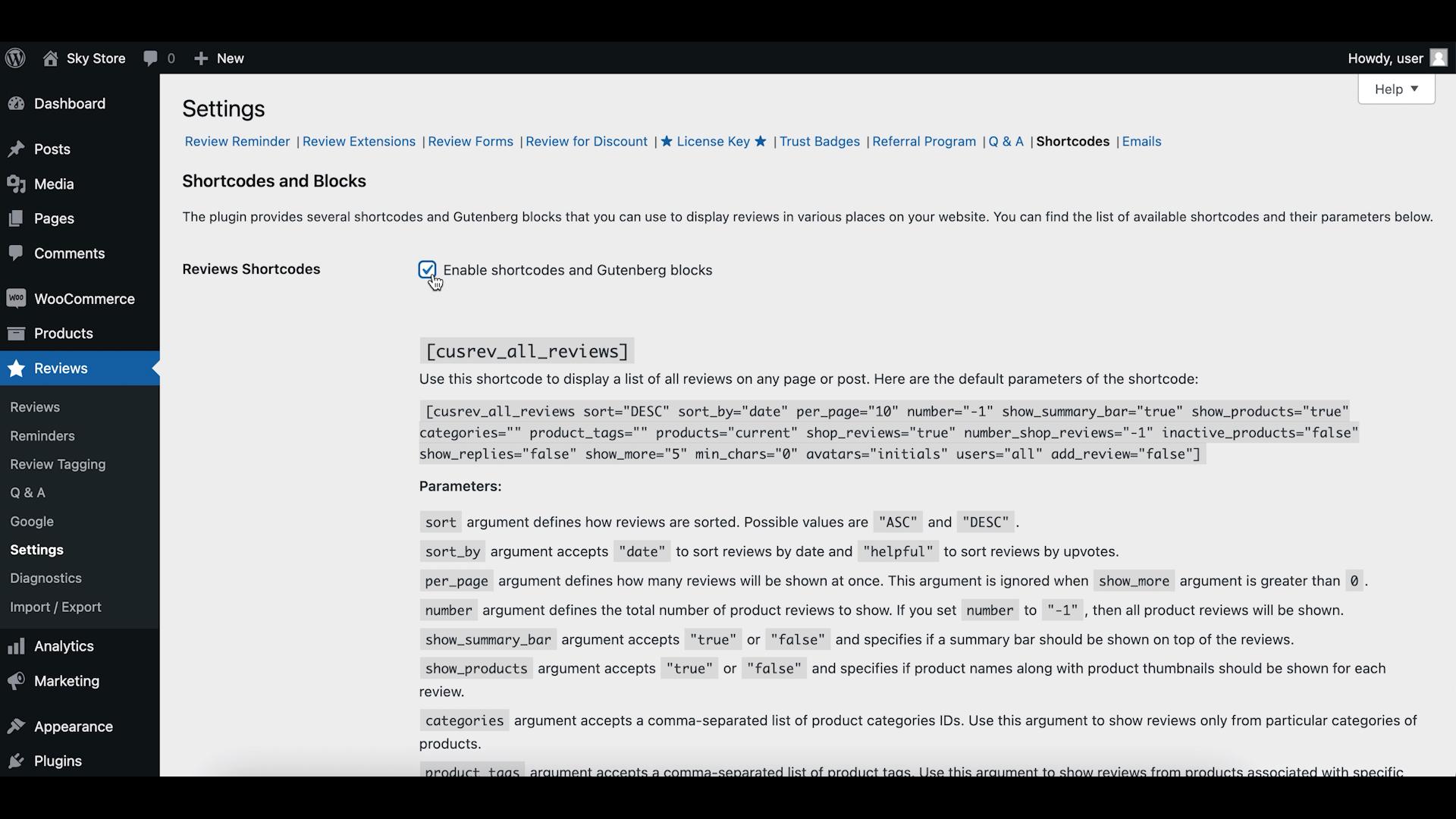 Step 2: Utilize CusRev Shortcodes
CusRev offers a variety of shortcodes that allow you to present customer reviews in different formats on your WooCommerce site. You can find the full list of available shortcodes on the "Shortcodes" tab of the plugin' settings.
You can use these shortcodes on almost any page of your website. Let's have a look at the most popular shortcodes to display reviews.
Reviews List Shortcode [cusrev_all_reviews]
Use the [cusrev_all_reviews] shortcode to display a list of customer reviews. It provides a classic reviews layout that you can often see on product pages in eCommerce stores. The shortcode comes with a long list of parameters that can be used for customization.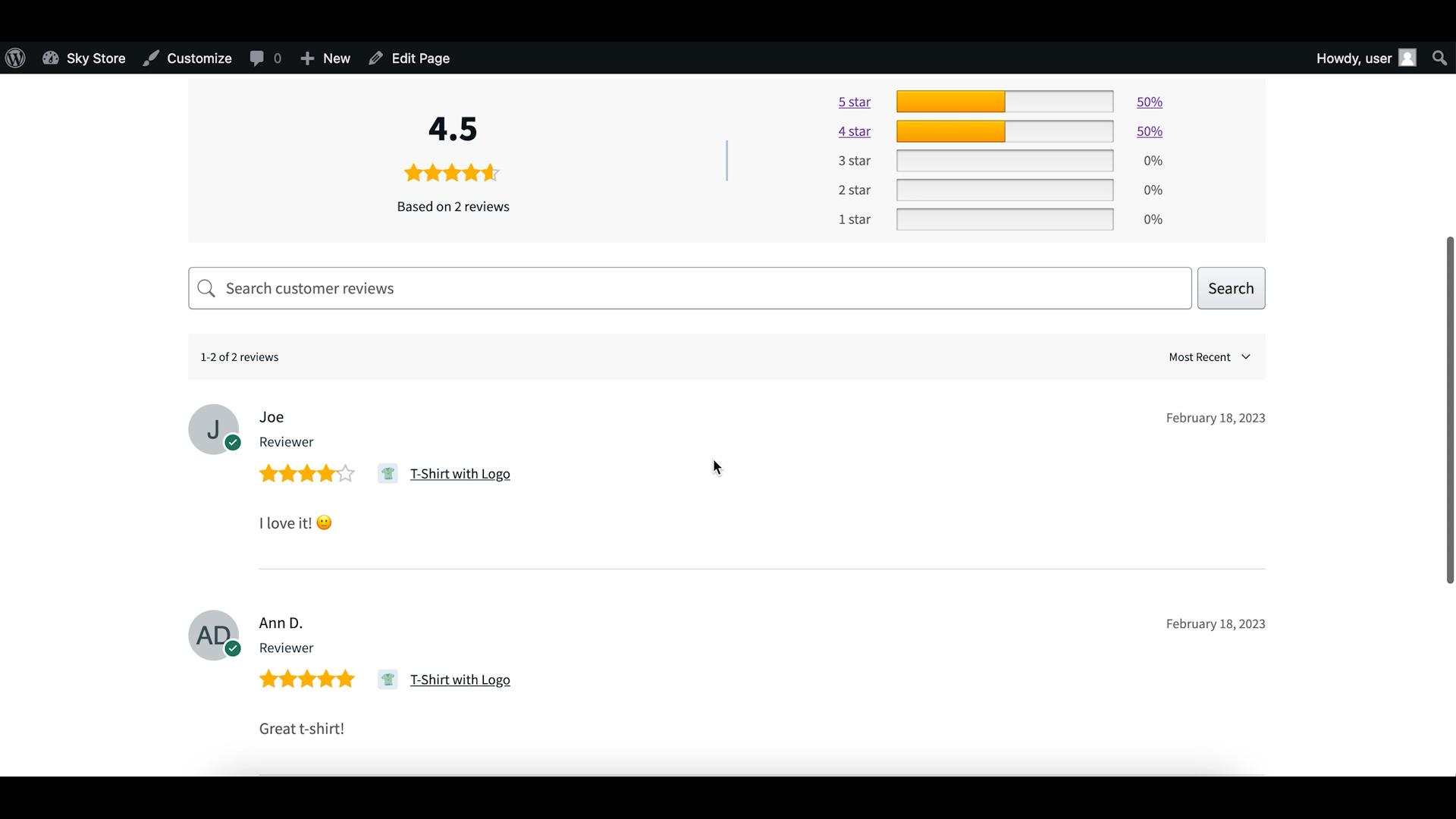 Reviews Grid Shortcode [cusrev_reviews_grid]
Utilize [cusrev_reviews_grid] shortcode to showcase review in a grid layout. The grid layout can be beneficial when you have many reviews with photos uploaded by customers. Images uploaded by customers will then be displayed as part of the layout providing a nice way to showcase user-generated content. The shortcode also comes with many parameters for customization.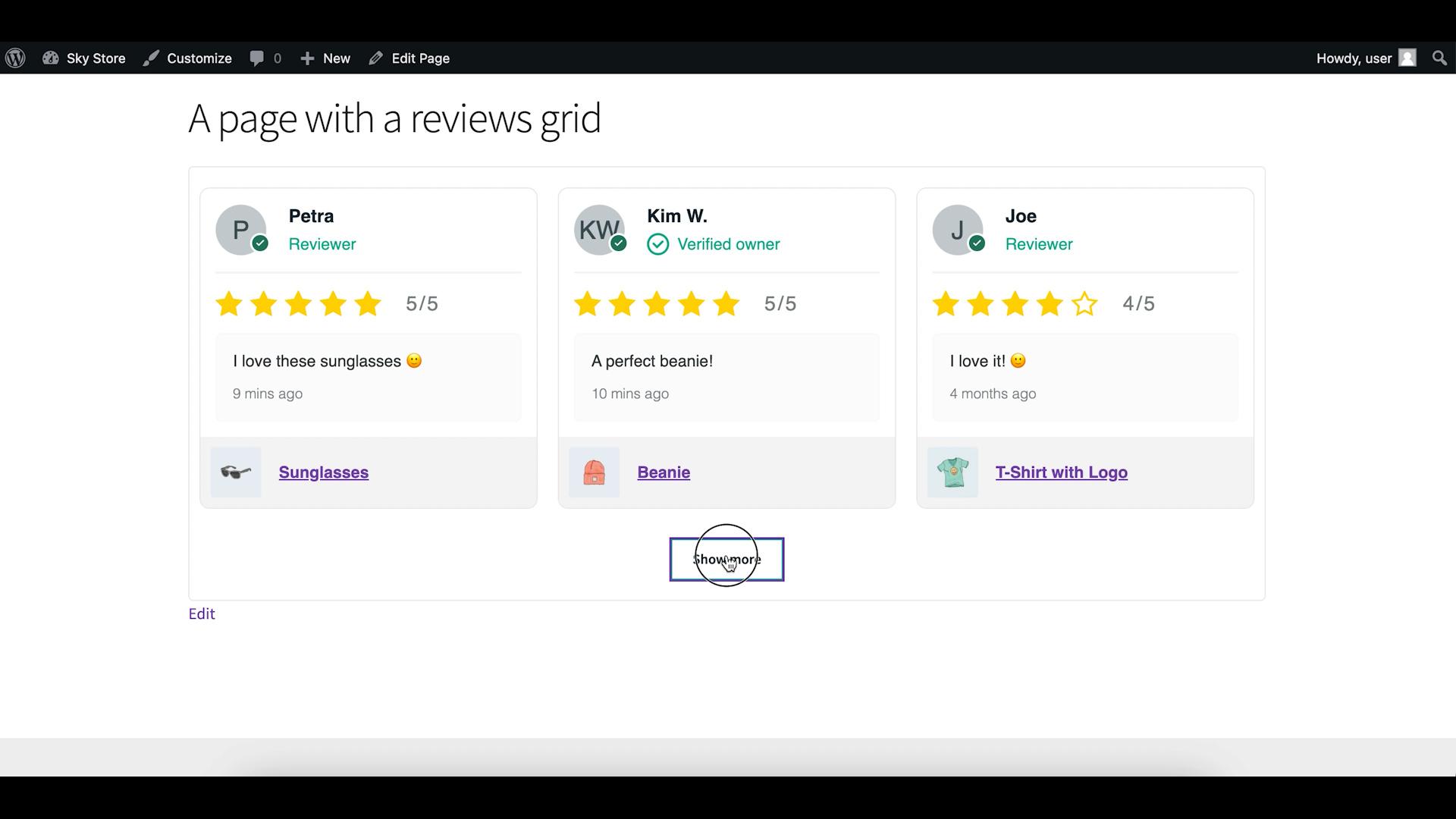 Reviews Slider Shortcode [cusrev_reviews_slider]
To create an interactive review slider, employ the [cusrev_reviews_slider] shortcode. Sliders usually look best on home pages or pages with customer testimonials. You can further customize the slider using any of the parameters that are provided with this shortcode.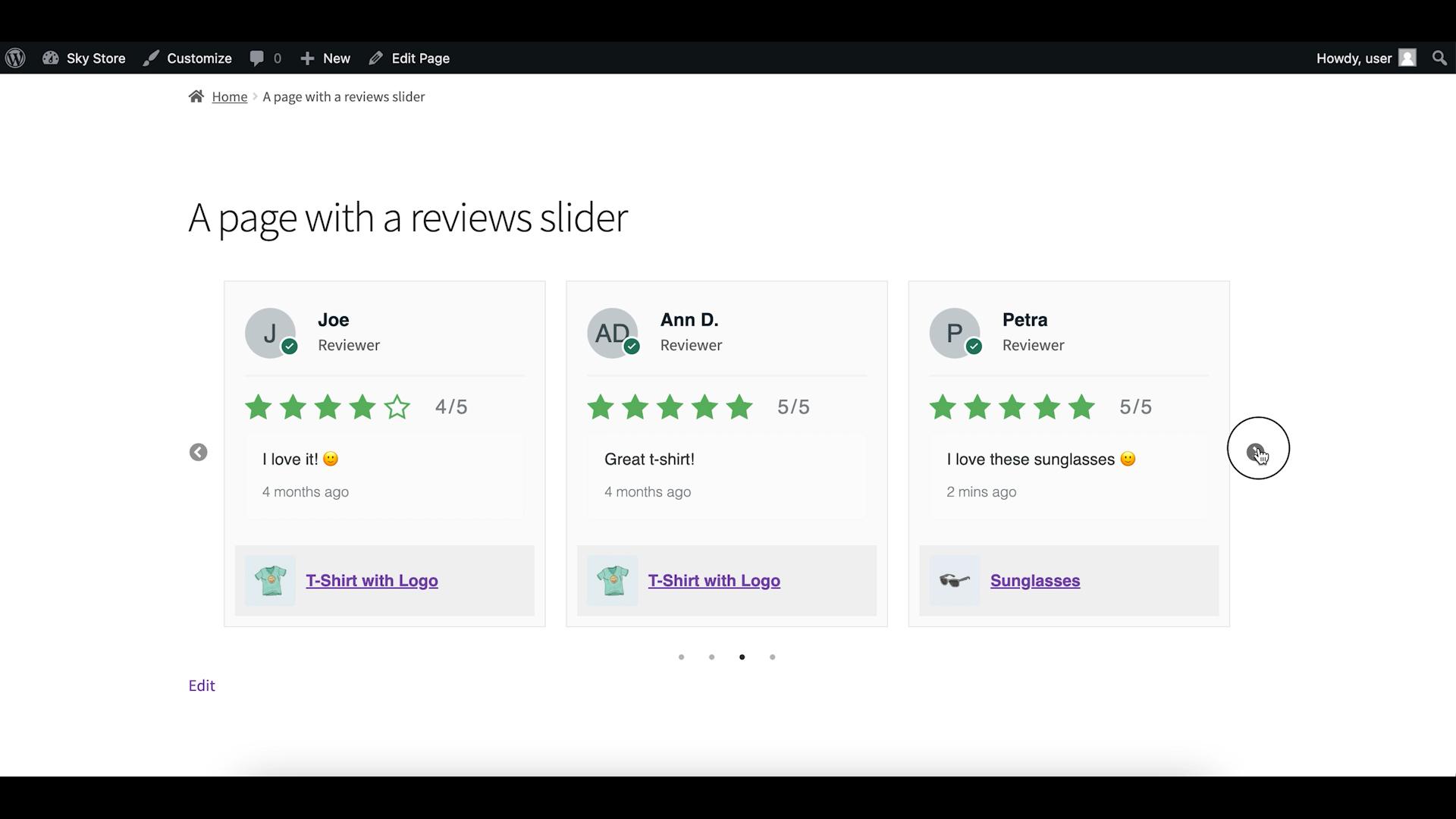 Step 3: Insert Shortcodes into Pages or Posts
Now that you know the available CusRev shortcodes, you can easily integrate them into your WooCommerce site's content.
Edit the page or post where you want to display reviews.
Place the relevant CusRev shortcode at the desired location.
Customize the shortcode by adding attributes like the number of reviews to display or specific filtering criteria.
After adding the shortcodes, save or update the page or post to make the reviews visible on the front end of your website.
Click "Publish" or "Update" to save your changes.
View the page or post on the front end of your site to see the displayed reviews based on the chosen shortcode.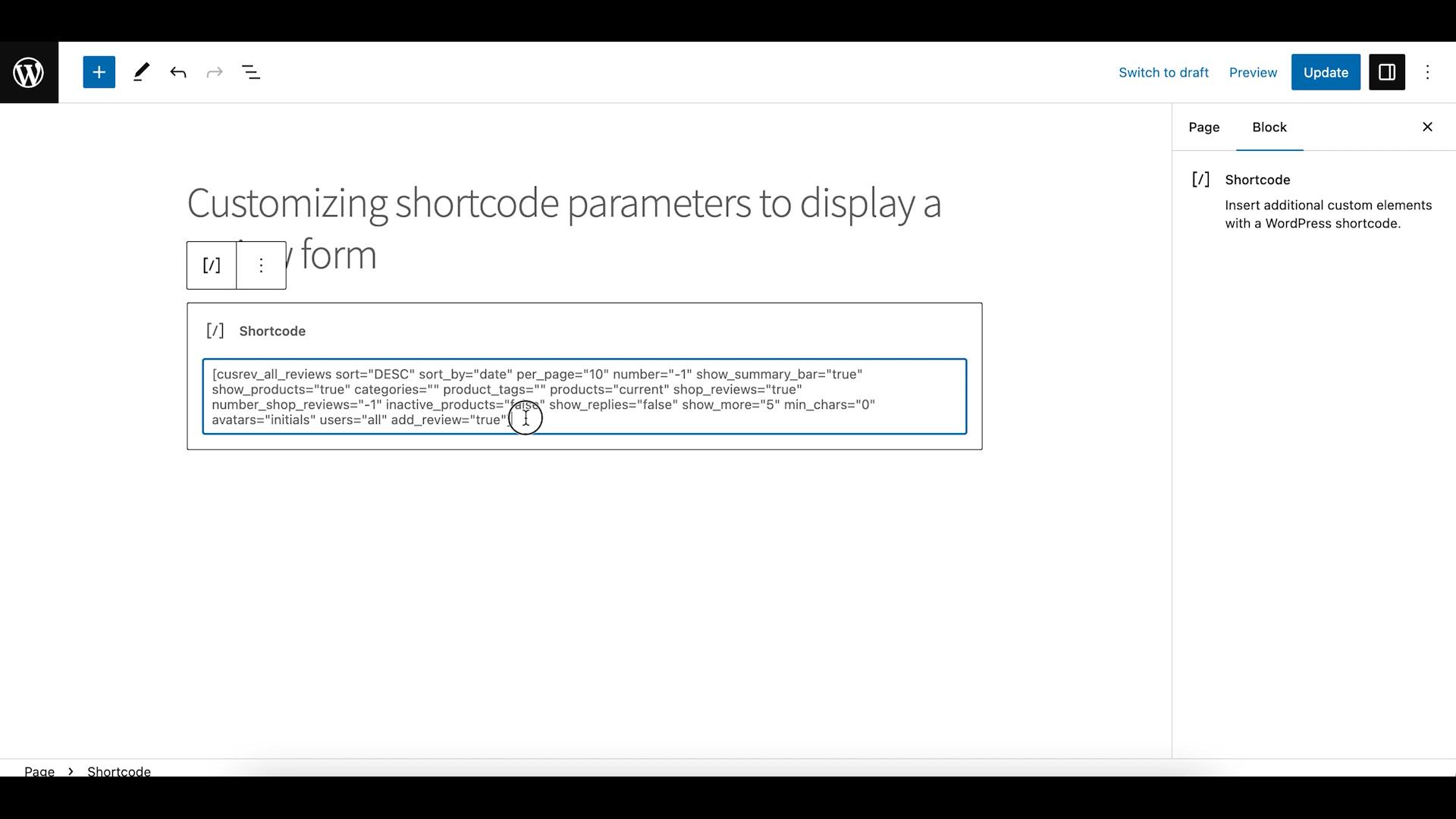 Wrapping up
By using CusRev's intuitive shortcodes, you can effortlessly showcase customer reviews in various formats across your WooCommerce store. Whether you're displaying a list of reviews, creating engaging review sliders, or showcasing a grid of reviews, CusRev's shortcodes provide the flexibility to tailor the presentation of customer feedback to your specific needs. This enhances customer trust, encourages engagement, and ultimately contributes to the success of your WooCommerce store.