One particular complaint that is often heard about WooCommerce is the lack of support for images and videos in reviews. So, in this article, we are going to see 4 different ways that you can use to add support for photo reviews in WooCommerce.
---
Used by over 28% of all stores on the web, WooCommerce is no doubt the most popular eCommerce platform currently available. It is a plugin that brings together the features required to make the process of creating an online store as simple as possible. One of such features is the ability for customers to leave reviews of items that they have bought.
As you probably already know, reviews from customers are the cornerstone of your online reputation. Nowadays, any eCommerce website will find it impossible to grow without them. WooCommerce's review feature is very simple. After your users purchase a product, they can write a review and anyone will be able to see this review on the product's page, as shown below.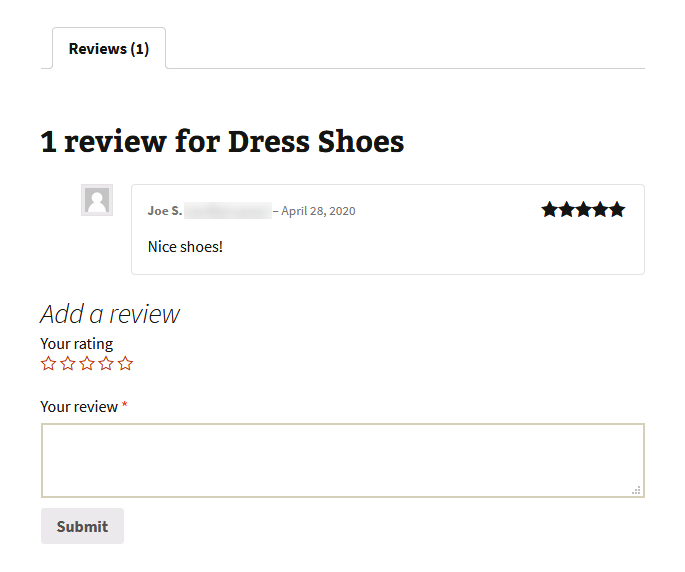 The problem – adding images
Overall, the review feature works reasonably well but many users find it fairly basic to run a full-fledged modern online store. One of the things that make it so "basic" is that it does not allow customers to add photos and videos to reviews.
Giving buyers the option to add media in reviews is a must have for any online shop. It shows that people have actually purchased and used the product in question. This is a powerful form of social proof and without it, potential customers may doubt the integrity of your reviews.
At the time of writing this article, there is unfortunately no easy way of tweaking WooCommerce to allow customers to add any form of media to their reviews. This is where plugins come to the rescue. So, let's see 4 plugins that you can use to achieve this.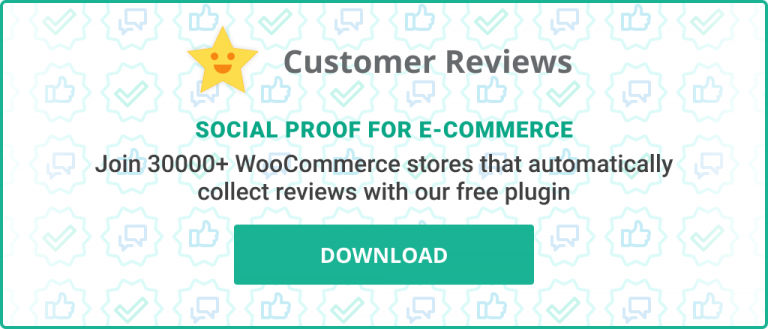 1. YITH WooCommerce Advanced Reviews
YITH WooCommerce Advanced Reviews is plugin that adds a few features to WooCommerce. Although it has received mixed reviews over the years, it's still considered a viable option to allow customers to add images to reviews. It is very easy to use. Simply install it and from its options, enable the Show Attachments option.

If you are looking for a simple, lightweight plugin to allow your customers to post pictures in reviews on your store, this might be the way to go. However, one of the critics often heard about this plugin is that it accepts any kind of attachment. This can open up security holes in your system. On top of that, the free version of YITH WooCommerce Advanced Reviews does not let you manually approve comments. This can be a problem as you won't be able to sort out spam reviews unless you upgrade to a paid version.
2. Comment Image
As its name implies, Comment Image is a plugin that was built specifically to address the issue of users not being able to include photos in the standard WordPress comments. It allows attachment of photos in JPG, PNG, and GIF formats. Although this plugin was not built for WooCommerce, WooCommerce reviews are essentially WordPress comments with additional meta fields. So, this plugin can also be used for photo reviews in WooCommerce.
Like many other review plugins, it comes with other bells and whistles. However, this plugin has not been updated for a while, so there is a risk that it might stop working after one of the next updates of WordPress core.
3. WooCommerce Product Reviews Pro
WooCommerce Product Reviews Pro is a premium plugin designed by the developers of WooCommerce. According to them, it unlocks features that can supercharge product reviews in WooCommerce. It allows you to add Amazon-style reviews and gives your customers review capabilities like filtering reviews and additional discussion options. Moreover, it not only allows customers to leave images in reviews but also add videos as well. One major drawback of this plugin is that it comes at a steep price – $79.00 annually, which many online businesses do not find very affordable.
4. What about 'Customer Reviews for WooCommerce'?
If you are reading this article, you might be wondering whether our plugin, Customer Reviews for WooCommerce, allows attachment of images in reviews. You'll be glad to know that yes, it does, but that's just the tip of the iceberg. Our plugin lets you choose the size and number of images that customers can upload in reviews. Moreover, you can also accept video reviews from your customers via aggregated review forms that are sent to customers with reminders to review their orders. Ready-made and customizable email templates are at your disposal so that you can quickly create personalized emails for your customers to remind them to leave reviews and upload media files like photos or videos.
You can use most of the features of our plugin for free. While other plugins will force you to upgrade to a premium version to unlock features like uploading videos for reviews, spam protection or social media integration, we will never charge you anything for basic features.
Of course, shops with a Pro license can unlock premium features and have access to email-based support. Nevertheless, if you are looking to just include images and videos in reviews, as well as manage your reviews efficiently, the Free version will definitely meet all your needs.
How to Enable Photo Reviews in 'Customer Reviews for WooCommerce'
To allow customers to upload images on your WooCommerce product pages, first install and activate our plugin. On your WordPress dashboard, select Reviews and then Settings. Next, click on the Review Extensions tab. Make sure that the first option, Attach Images is ticked and finally, Save your changes.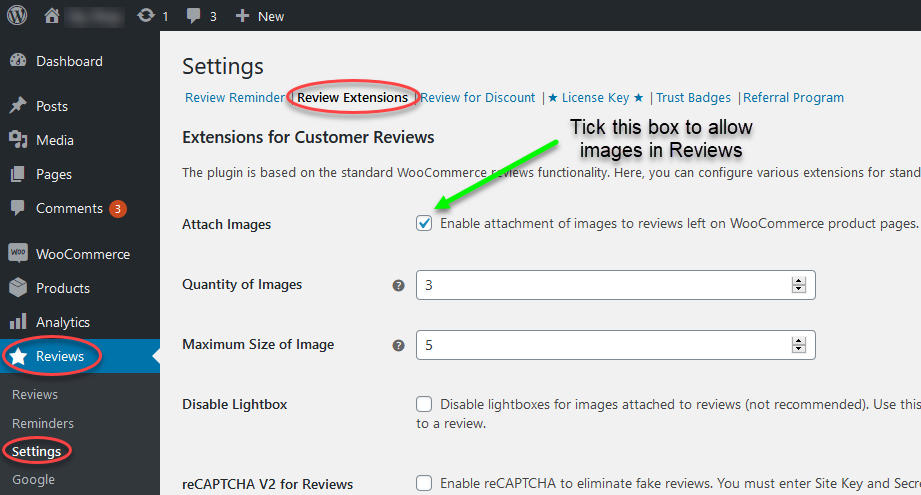 From now on, on your product pages, a new section will appear. This will give customers the option of uploading images and videos from their computers.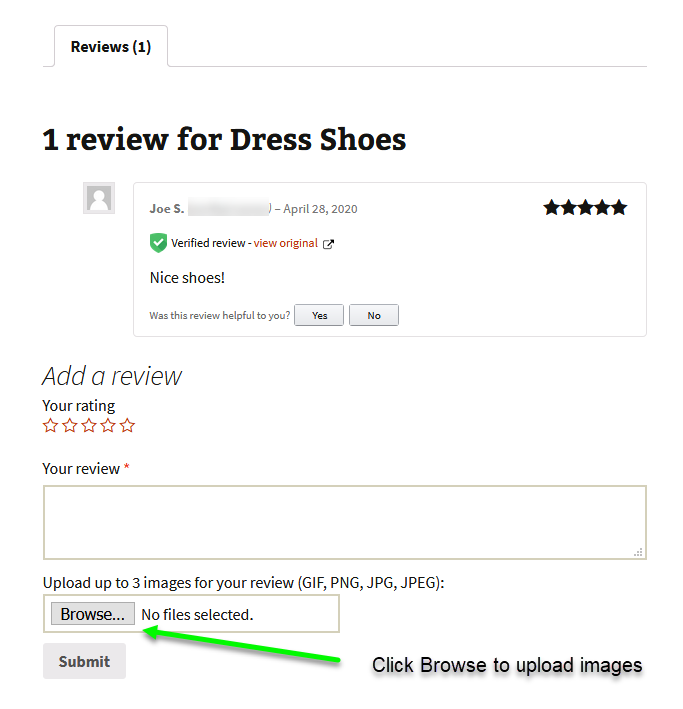 If you are using review reminders, you can let customers upload images and videos on a personalized Review Form. To do so, go to Review Reminder tab of the plugin's settings and tick Attach Media checkbox.

Video Tutorial
Final Thoughts
So, you now have 4 different plugins to enable photo reviews in WooCommerce. Which one to choose depends on your needs and how much you are willing to spend.