E-commerce has definitely provided the premier online platform to businesses. However, to successfully transition to an online WordPress store, you should pick effective WooCommerce themes.
WooCommerce is the most preferred e-commerce plugin that you can employ to construct your online shop.
A savvy theme is the one the provides optimised design, with features that are perfectly suited for your business. There are numerous WooCommerce themes available in the market. However, not all WordPress themes are compatible with WooCommerce and pre-designed templates.
Hence, we have accumulated some of the best-stylized WooCommerce themes for you.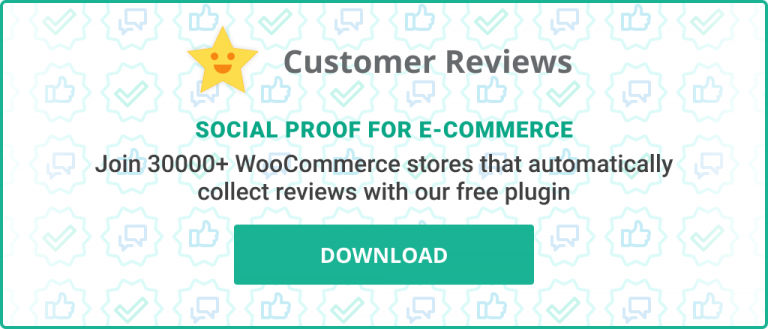 1. Ace of sales among WooCommerce themes: Astra
Website: https://wpastra.com/
Often considered the perfect WooCommerce theme to elevate your sales, Astra is a fast-paced and relatively lightweight theme. It comes into the category of clean and well-defined themes. With its immense flexibility and spectrum of customisation choices, Astra can perfectly fit into any mould that you would create.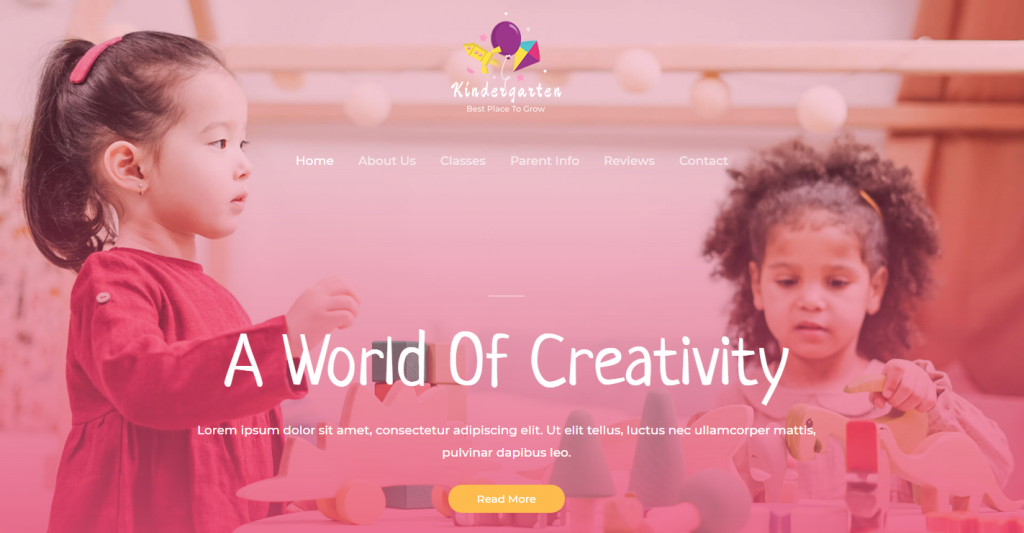 The homepage layout of Astra includes several areas where content widgets can be easily dragged and dropped. Astra meshes well with other page constructors such as Elementor and Beaver Builder. Furthermore, Astra comes accompanied by a host of pre-designed templates, along with templates that are particularly built to support e-commerce websites.
2. King of minimalism among WooCommerce themes: Neve
Website: https://wordpress.org/themes/neve/
Less is more when it comes to this immaculately refined theme. Regardless of your purpose, Neve's contemporary style will win your heart. Easily embeddable, Neve is one of the most malleable themes currently available.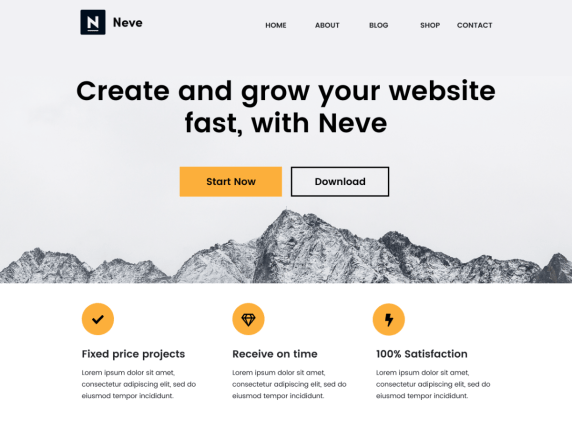 Its free-of-cost starter site will provide everything you need to create a world-class online shop. Easily one of the fastest WooCommerce themes, Neve works fairly well with other page builders such as Elementor, Beaver Builder, etc. The advanced features are just the cherry on top.
3. Master of product display: Revolution Pro
Website: https://my.studiopress.com/themes/revolution-hubspot/
Competent to ably support WooCommerce websites, Revolution Pro is specifically suited for an attractive display of products on your online store.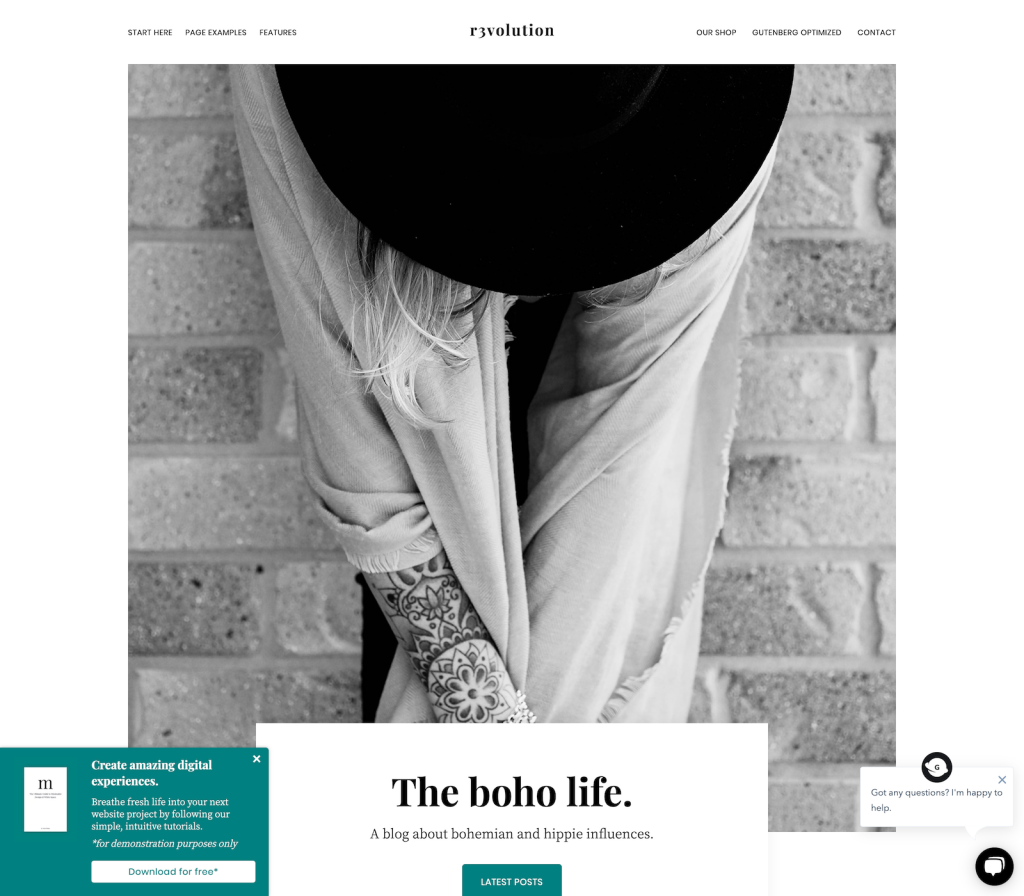 One of the more easily deployable WooCommerce themes, Revolution Pro also offers a relatively simple customer checkout system. You can easily access this theme on your mobile. You can also alter the content, colours, and headers of the theme. If you are a beginner, then this is the right theme for you to start.
4. Maestro of aesthetics : eStore
Website: https://wordpress.org/themes/estore/
Phenomenally easy to operate and deploy, this theme works wonders for online stores. You can use this theme to enhance the beauty and aesthetics of your online shop.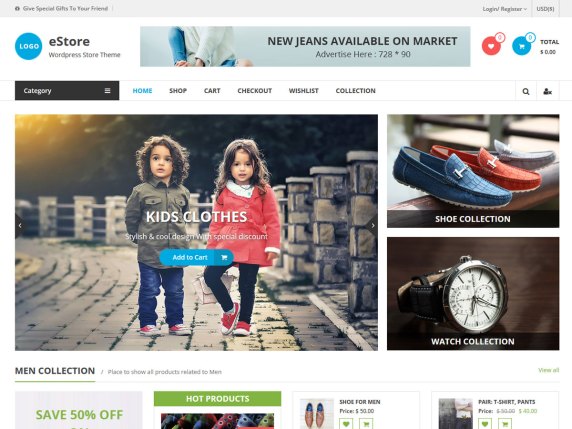 Being amongst the most receptive and flexible WooCommerce themes, eStore provides a sleek look, no matter which device you use it on. Furthermore, there are a variety of pre-developed widgets that could be dragged and dropped to forge an aesthetically pleasing website. You will also find eStore to be SEO compatible, fast-paced, and extremely malleable.
5. Champion of sophistication: Jevelin
Website: https://themeforest.net/item/jevelin-multipurpose-premium-responsive-wordpress-theme/14728833
This simple-to-employ theme can help you concoct visually stunning websites. Javelin is a high-functioning, customizable website, that is perfectly fit for WooCommerce platforms.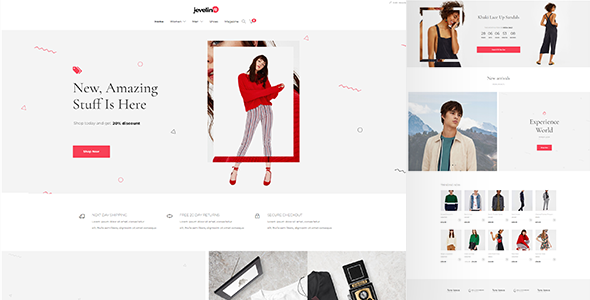 With over 40 distinct components that you could utilise according to your needs, Jevelin makes it easier to create a unique look. The default page builder provided in Jevelin allows for seamless customization. Backed by the e-commerce plugin suite, the templates present in this theme are resource-rich.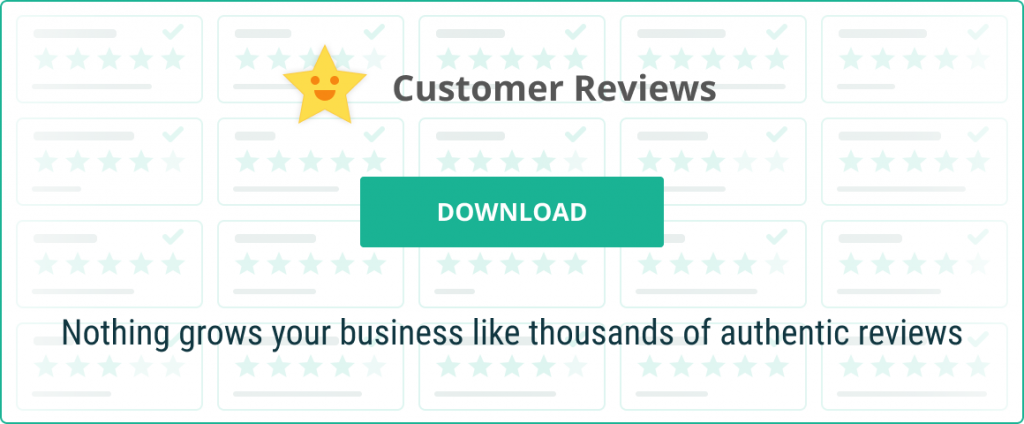 6. The multitasker of WooCommerce themes: Porto
Website: https://www.portotheme.com/wordpress/porto_landing/
A major upside of selecting Porto is the assortment of features and templates that comes associated with it. To create your online store, you can pick from an impressive 19 diverse store demonstrations.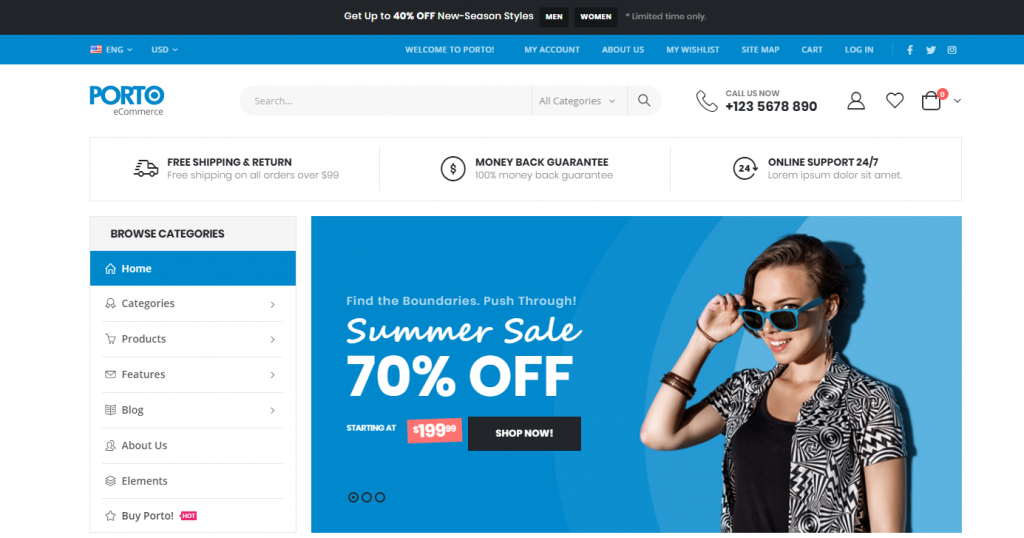 And if there isn't a demo that quite fit your criteria, then rest assured, Porto will competently help you alter the content of the demo, until you find it workable. Distinct from other themes, Porto really transforms itself to fit any particular set of requirements.
7. The eye-catching whiz of WooCommerce themes: ShopIsle
Website: https://wordpress.org/themes/shop-isle/
ShopIsle is known for its ability to catch user's attention with its striking visual symmetry. The gorgeous headers work well to instantly catch the eye of anyone who happens to come across the layout. This is the reason why ShopIsle is one of the most popular themes out there.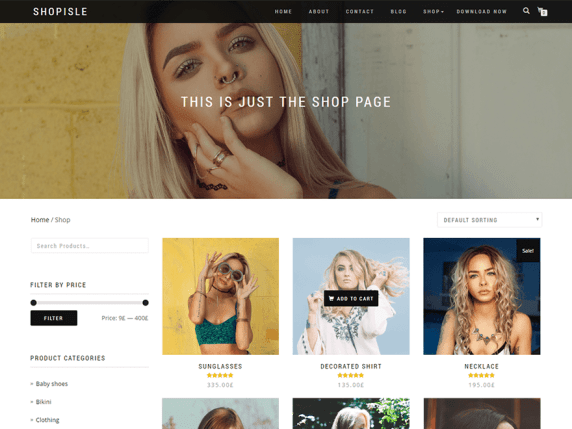 ShopIsle is an especially good fit for you if you are looking to display some messages regarding events or promotional offers. The attractive presentation of ShopIsle really lends itself well to make such offer slogans look pretty and enticing.
8. The most holistic of the WooCommerce themes: Hestia
Website: https://wordpress.org/themes/hestia/
One of the most comprehensive yet neatly tie-in WooCommerce themes out there, Hestia provides a quick and easy way to build an online store. It comes complete with a full-width header, parallax scrolling, tabbed content blocks, a simplistic shop page, and vibrant and colourful buttons.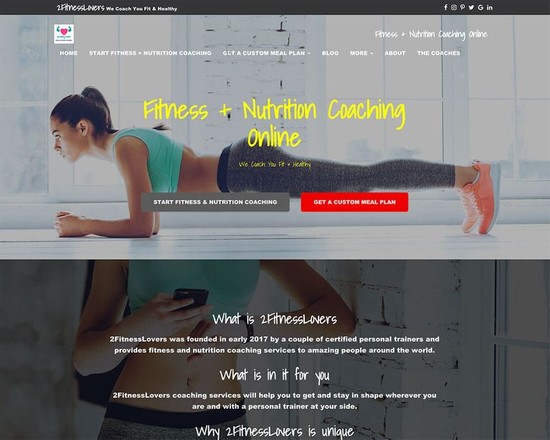 Offering several features that are only accessible in other premium WordPress themes, Hestia offers a whole lot of customisation options to users. You can utilise the infinite colours, several layout choices, customizable headers, social media icons, numerous navigation menus, and a lot more, in Hestia.
9. The most multifaceted of WooCommerce themes: Jayla
Website: https://themeforest.net/item/jayla-minimal-modern-multiconcept-woocommerce-theme/22486296
The forte of this theme is undoubtedly its versatility. Jayla comes with a vast collection of pre-developed templates, such as parallax effect, mega menu, header/footer builder, product quick view and Slider Revolution, plus 10 pre-built online store demos.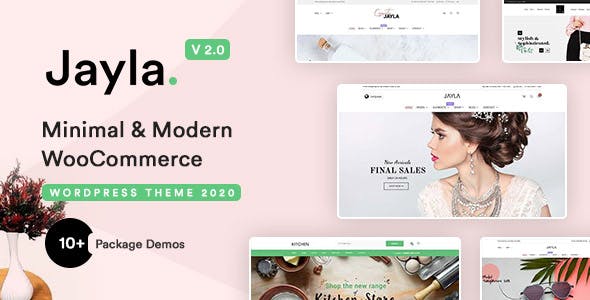 Divulging from other WooCommerce themes, Jayla offers Mega Menu tool for customisation. This tool allows you to add drop-down menus to your layout. You can use these menus to present your product imagery in an appealing and alluring manner.
10. The sweetest of WooCommerce themes: CupCake
Website: https://cyberchimps.com/store/cupcake/
Specifically catered to serve the needs of websites pertaining to bakery and food blogs, CupCake offers a range of customization options that fit this specific criterion perfectly.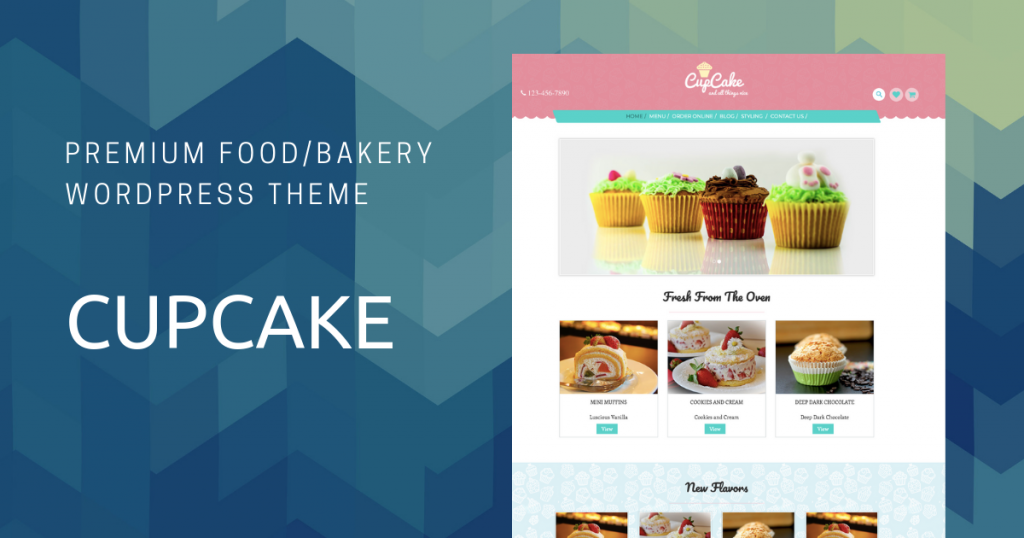 Allowing you to magnificently display your baked delicacies and food products, CupCake knows how to present food in the most scrumptious way possible. Among all the other WooCommerce themes, CupCake is the only one that is completely oriented towards food-based websites.
This is also why it offers some specialised features that enhance the effect of homepage, enticing food enthusiasts to check out the website. Its amiable use of lightbox popup for product images further accentuate the visual impact of the page.
We hope we helped you with this list of the best WooCommerce themes currently available in the market. Having a shortlist on your hand will help you go through the best themes and sort out the one that is most well-suited for your website. So what are you waiting for? Pick any one of the above-mentioned WooCommerce themes, and get going.